Find this product on Logos.com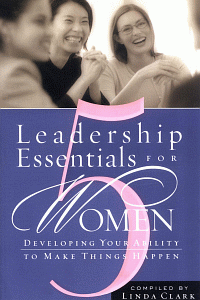 5 Leadership Essentials for Women
Developing Your Ability to Make Things Happen
Product Details
You're eager to do the work before you. Now realize your God-given potential to become as effective as you are willing.
Finish projects effectively.
Step up to lead others with confidence.
Guide other women in realizing common goals.
Make the best use of your gifts as you lead.
Through 5 Leadership Essentials for Women you will learn the fundamentals of communication, group-building, relationship skills, conflict management, and time management. With these basics, you will become an effective leader in your church, community, and workplace, confident in your abilities and able to set priorities. Written by women who are skilled leaders, 5 Leadership Essentials for Women also includes discussion questions and learning exercises to help you better understand each of the five key leadership areas.
About the Authors
Compiler Dr. Linda M. Clark is women's ministries specialist for the California Southern Baptist Convention and a freelance writer for numerous magazines. She holds a master's degree and doctoral degree in women's studies from Trinity Seminary.
Sections for each leadership skill are written by women with experience: Dr. Judy Hamlin (Group Building Skills) is an author who has served as a ministry consultant; Roberta M. Damon (Relationship Skills) is a psychologist and former missionary to Brazil; Dr. Shirley Schooley (Conflict Management) is a university professor and a pastor's wife; Debbie Lloyd (Time Management) also has experience as a pastor's wife and a Christian educator; Dr. Harriet Harral (Communication Skills) has served as executive director of a regional leadership organization and as a university communications center director.