Find this product on Logos.com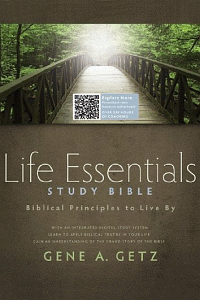 Life Essentials Study Bible
Biblical Principles to Live By
Highlights
Features over 1,500 Life Principles along with the Scriptures that inspire them
Offers more than 250 hours of free online coaching content led by Getz
Introductions to each book of the Bible and its list of corresponding
principles, plus a topical index and cross references
Covers the entire Bible—Genesis to Revelation
A culmination of over 5 years of teaching by Gene Getz
Culturally relevant
Product Details
Dr. Gene Getz has devoted his life to presenting God's Principles through the teaching of God's Word. In the Life Essentials Study Bible, Getz puts forth 1,500 principles in Scripture that are as relevant today as when the Bible was first written. Getz's goal is to help the learner more easily remember and effectively apply the Bible's wisdom to everyday life. He explains how each of these principles represents a supra-cultural truth—one that can and should be applied at any moment in history and in every cultural situation. This is more than just a Bible with informational notes. This is a Bible you can dig deeper into, as each principle provides additional online teaching and coaching - over 250 hours in all.
About the Author

Dr. Gene A. Getz, host and teacher of Renewal Radio, is the Chairman Emeritus for CCBT and has been a senior pastor, professor, and author of more than 60 books.
Getz has been a church-planting pastor in the Dallas Metroplex since 1972 and has served as an adjunct professor at Dallas Theological Seminary. He also serves as President of the Center for Church Renewal and serves as Pastor Emeritus of Chase Oaks Church (formerly Fellowship Bible Church North) in Plano, Texas. Getz is a graduate of Moody Bible Institute and holds a bachelor's degree from Rocky Mountain College, a master's degree from Wheaton College, and a doctorate from New York University.
Endorsements
As the Life Essentials Study Bible frames the Bible in a whole new way—readers quickly see how its pages apply to real life for real people, families, communities and in the workplace.