Find this product on Logos.com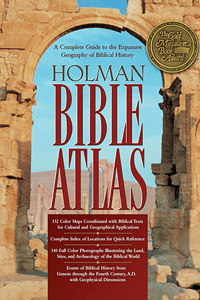 Holman Bible Atlas
A Complete Guide to the Expansive Geography of Biblical History
Highlights
132 Full Color Maps
153 Photos
Indexes, Glossary
Extensive Bibliography
Numerous Charts & Sidebars
Events of Biblical History from Genesis through the Fourth Century, A.D. with Geophysical Dimensions
Product Details
The Holman Bible Atlas illuminates the Bible fora whole new generation of students and teachers by introducing them to the physical, cultural, and historical settings of the biblical narrative. Integrating insights from physical and historical geography, archaeology, ancient historical sources, and the Bible itself, the Atlas presents 132 newly designed full color maps complete with specific biblical texts to assist teachers and students alike in understanding.
Beginning with the physical geography of the ancient Near East and Palestine, the Atlas illuminates various periods of biblical history by outlining eras from the Patriarchs through the Christian era and Constantine.
By utilizing chart summaries, timelines, and over 100 additional color photographs, the Atlas helps the reader visualize the setting of biblical events.
Other special features include:
A series of sidebars covering various subjects ranging from Canaanite religion to the cities of Paul
Discussion of the great empires influential to the ancient Near East — Egypt, Assyria, Babylonia, Persia, Greece, and Rome
Insight on Israel's neighboring people groups — the Aramaeans, Moabites, Edomites, Amorites, and Phoenicians
Discussion of road systems, economic life, and the recovery of ancient societies by archaeologists
About the Author
Thomas V. Brisco is Dean of the Logsdon School of Theology at Hardin-Simmons University. He previously served as Professor of Religion at Baylor University and Professor of Biblical Backgrounds and Archaeology at Southwestern Baptist Theological Seminary. Dr. Brisco was area supervisor for the archaeological expedition at Tel Batash (Timnah).