Find this product on Logos.com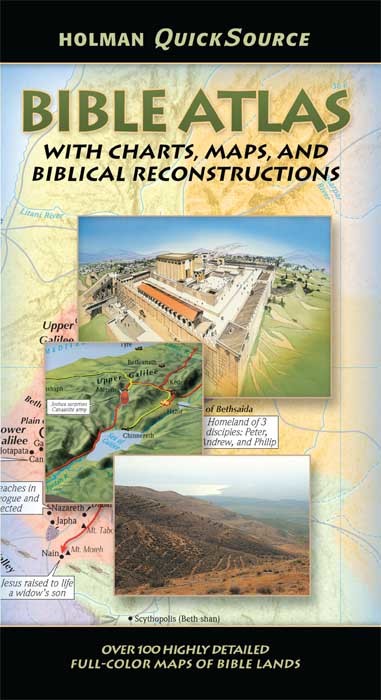 Holman QuickSource Bible Atlas
With Charts, Maps and Biblical Reconstructions
Product Details
It's the quickest way to get the big picture. The Holman QuickSource Bible Atlas packs an amazing amount of information about the physical context of biblical events into a book that's easy to carry and easy to use. And now, with this colorful compact volume, you'll always have these details close by for fast, easy, dependable reference. Included here are more than 300 maps, charts, photos, and biblical reconstructions illuminating the geographical context of key biblical topic.
These 100+ maps illuminate the geographical context of Abraham's Journeys, The Miraculous Deliverance of Israel from Egypt under Moses' Leadership, Joshua's Conquest of Canaan, David's Uniting Israel as One Nation, The Division of the Kingdom After the Death of Solomon, The Babylonian Exile, Jesus' Birth and Childhood, Jesus' Ministry in Judea, Galilee and Perea, The Expansion of the Church, Paul's Missionary Journeys and many more. It's perfect for individual study, Sunday School, weekday Bible studies, Christian schools and home schools.
About the Author
Paul H. Wright is director of Jerusalem University College (Institute of Holy Land Studies). He is a graduate of Trinity Evangelical Divinity School (M.A.), Institute of Holy Land Studies (M.A.), and Hebrew Union College (Ph.D.). Dr. Wright has been a resident of Jerusalem since 1997 and travels extensively across the Middle East lecturing on the geography of Bible lands.