Find this product on Logos.com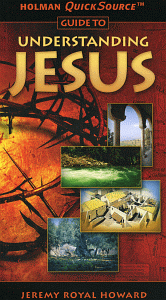 Holman QuickSource Guide to Understanding Jesus
Product Details
Two thousand years ago, at a crossroads in time and culture, a Jewish boy named Jesus was born in Roman Palestine to a woman who was reportedly a virgin. Jesus wowed his elders at a tender age, turned water to wine as a young man, and after this came reports of healings, exorcisms, and mastery over nature. People flocked to him out of love, hatred, and simple curiosity. His teaching inspired some, angered others, and ignited a firestorm over questions about his identity. The controversy continues today. This book examines vital issues and provides a solid basis for understanding Jesus and his implications for each of us.
Book six in a greatly successful, visually-driven yet content-rich reference series, the Holman QuickSource Guide to Understanding Jesus takes a close and clear look at Christ in five parts: (1) His Old Testament background, (2) His life on Earth, (3) the Cross, (4) His teachings, and (5) His followers.
Author Jeremy Howard, an apologetics expert inspired by the engaging style of C. S. Lewis, equips Christians with answers to deep and challenging spiritual questions while also helping seekers and unbelievers see Jesus for who He really is. In support, the book includes more than two hundred color photographs and illustrations.
About the Author
Jeremy Royal Howard, author of the Holman QuickSource Guide to Understanding Jesus, is a writer and editor whose previous work includes coauthoring The New Eve and contributing to the Apologetics Study Bible. He holds a Ph.D. in Christian Apologetics and Worldview Studies from Southern Baptist Theological Seminary and lives with his wife and children in Nashville, Tennessee.