Find this product on Logos.com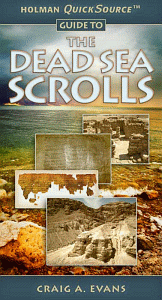 Holman QuickSource Guide to the Dead Sea Scrolls
Product Details
Buried in a forgotten cave and lost for eons of time, the Dead Sea Scrolls came to worldwide attention in 1947 when several of them were uncovered by Bedouin sheep herders who were searching for treasure. Though the herders thought them worthless at first, scholars came to see them as invaluable keys to unlocking the era of Christ. Sensational media accounts claim that the scrolls undermine Christian beliefs of paint an unexpected picture of Jewish religion. Now, after more than half a century of examination by scholars from around the world, the truth about the Dead Sea Scrolls can be told. Let recognized expert Craig A. Evans guide you into a fuller understanding of the Dead Sea Scrolls and their importance.
Book seven in a greatly successful, visually-driven yet content-rich reference series, the Holman QuickSource Guide to the Dead Sea Scrolls gives the reader a strong overview and understanding of the Dead Sea Scrolls and their importance for Christianity as outlined by esteemed professor and author Craig A. Evans.
Topics covered will include the discovery of the Dead Sea Scrolls, notes on the Dead Sea region, the contents and dates of the Scrolls, who wrote and gathered them, first and second generation scholars of the Scrolls, and more.
About the Author
Craig A. Evans is Payzant Distinguished Professor of New Testament and director of the graduate program at Acadia Divinity College in Wolfville, Nova Scotia. A widely recognized expert on the Bible and Archaeology, and Jesus and the Dead Sea Scrolls, he also authored Jesus, the Final Days (with N. T. Wright) and Fabricating Jesus and is regular guest on Dateline NBC.