Find this product on Logos.com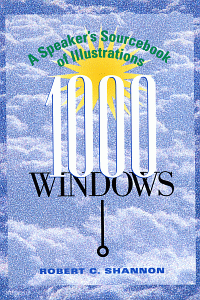 1000 Windows
A Speaker's Sourcebook of Illustrations
Product Details
Teachers, speakers, writers, and preachers will turn again and again to this invaluable reference - the source to use when preparing a talk on any topic!
1000 Fresh Illustrations on 300 Topics
Extensive, Cross-Referenced Index and Index to Scriptures
Topics Arranged Alphabetically
Easy to Read and Use
Sources Include the Realms of History, Famous People, Sports, Values, Bible Truths, and Many Mores
About the Author
Robert C. Shannon's career of Christian service includes preaching and teaching as well as mission work in Eastern Europe. He has taught and lectured at twenty-six Christian colleges and seminaries. He has authored or coauthored nine books, and his work has been published in sixteen magazines and translated into six foreign languages.