Find this product on Logos.com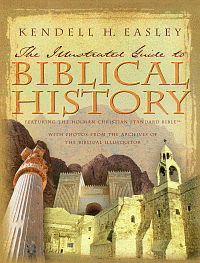 The Illustrated Guide to Biblical History
With Photos From the Archives of the Biblical Illustrator
This title works with the following Wordsearch products
Desktop
Highlights
Increases your understanding of Biblical history and gives you new insights into the people, places and events in Scripture.
Product Details
The Illustrated Guide to Biblical History provides both novices and advanced Bible students a practical way of placing the Bible's myriad of details in an easy-to-grasp, easy-to-remember pattern.
Being able to locate people and events on the timeline of Biblical history takes the guesswork out of Bible study and gives you new insights into God's plan for His people and creation. Since the books in the Bible are not arranged in historical sequence, it's easy to miss connections between various events and people that appear in different books. This is especially true of many Old Testament Books. Now, >The Illustrated Guide to Biblical History allows you to see numerous connections that you otherwise might have missed.
This invaluable resource will take your Bible study to a new level, with over 200 photos, 75 maps, and 15 timelines, all designed to increase your understanding of what God has done, and what He is doing, and what He will do.
The Bible is a complex collection of books which can be summarized in the following statement:The Lord God through His Christ is graciously building a kingdom of redeemed people for their joy and for His own glory. Kendell Easley expertly outlines this statement through the following sections:
God Builds His Nation (2091-931 B.C.)
God Educates His Nation (931-586 B.C.)
God Keeps a Faithful Remnant(586-6 B.C.)
God Purchases Redemption and Begins the Kingdom (6 B.C. – A.D. 30)
God Spreads the Kingdom through the Church (A.D. 30-?)
God Consummates His Eternal Kingdom (Redemption Completed!)
About the Author
Kendell H. Easley is professor of Biblical Studies and director of the School of Theology and Missions graduate programs at the Stephen Olford Center at Union University in Memphis, Tennessee.