Find this product on Logos.com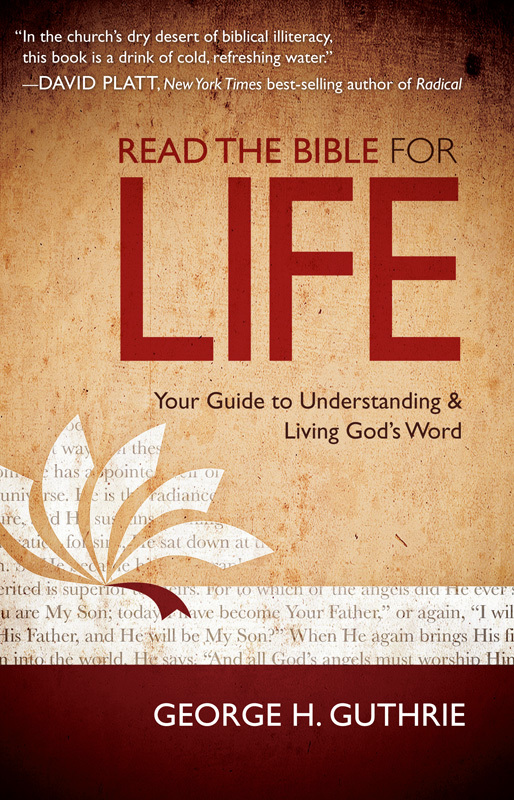 Read the Bible for Life
Your Guide to Understanding and Living God's Word
Highlights
16 Conversations on Reading the Bible Well
Product Details
The Bible may be the most-purchased book in the world, but it is often the least read and least applied due to a basic lack of understanding and motivation on the part of readers. Read the Bible for Life aims to improve biblical literacy in the culture and the church by simultaneously moving readers toward greater skill in reading the Bible well and toward a deeper commitment to applying Scripture to everyday life.
Through a series of down-to-earth conversations with some of today's brightest scholars, author George Guthrie discusses the basic tools and attitudes needed to read the Bible more effectively. Chapters focus on the various types of literature in Scripture and how to read them well. For instance, how should we read a psalm differently than we read a parable?
How should we read a story of the Old Testament differently than we read a letter from Paul? How can we engage these various parts of Scripture in a way that is truly life-changing? The book also discusses issues such as reading the Bible in context, choosing and reading a Bible translation, reading in times of sorrow or suffering, and reading the Bible with your family. As we better understand how to read the Bible skillfully, we begin to see how every person of the Bible, every psalm, and every teaching fits into the Bible's powerful, overarching story, and we begin to realize our place in the story God is still writing in the world.
About the Author
George H. Guthrie, author of Read the Bible for Life, is the Benjamin W. Perry Professor of Bible at Union University in Jackson, Tennessee. He helped establish and is now a Senior Fellow at Union's Ryan Center for Biblical Studies, which is committed to promoting sound Bible reading, study, and interpretation at the grassroots level of the church. Guthrie has also participated in developing or revising several popular Bible translations including the HCSB, English Standard Version, and New Living Translation.
Endorsements
In the church's dry desert of biblical illiteracy, this book is a drink of cold, refreshing water.
The book's conversational approach provides an easy entry for a generation that tends to read only headlines. With fresh insights for the longtime student of God's Word and accessible material for the new students, it is a resource I recommend for all believers.
The genuine give and take of conversation is key to the Christian community's deeper grasp of the Scriptures. Read the Bible for Life is a celebration of biblical conversation between friends who really love the Word. Hopefully, lots of people will join in.