Find this product on Logos.com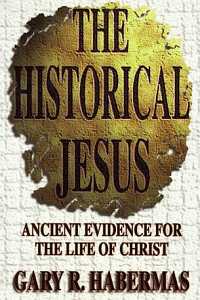 The Historical Jesus
Ancient Evidence for the Life of Christ
Product Details
Examining archaeological, textual and extra-biblical evidence, the author provides a strong foundation for the existence and deity of Jesus. This study will strengthen your faith and equip you to present a strong case to seeking unbelievers.
"Who do you say that I am?" - Jesus
The Historical Jesus examines this mystery, answering the age-old question of Christ's identity.
About the Author
Dr. Gary Habermas was raised in a Christian home and attended a German Baptist Church, but began having serious doubts about Christianity as a young person. After spending ten years in vigorous study, he continued his search as an undergraduate student at Tyndale College, graduating in 1972 with three majors and three minors. Habermas went straight to graduate school at the University of Detroit. Studying philosophical theology and the world religions, he earned an M.A. a year later, in 1973. After taking a year off, he pursued a Ph.D. at Michigan State University, graduating two years later, in 1976.
For his Ph.D., Habermas proposed a historical study of Jesus' resurrection. During his doctoral study, Habermas developed what he now terms the "minimal facts" approach to the resurrection. According to this method, the chief (if not the only) historical data that could be utilized were those that passed two critical tests: 1) each datum had to be multiply attested by normal critical means, preferably from more than one angle. 2) The vast majority of critical scholars had to concede the probability of this historical fact.
In addition to the data itself, this meant conducting a long, arduous study of most of the critical publications on the subject of the resurrection, in order to ascertain the scholarly "lay of the land." Habermas concluded that the resurrection could be known according to probability as a normal historical fact. To this day, he marks the conclusion of his study as giving him the conviction that the resurrection had occurred in history and could be evidenced as such. His dissertation was accepted by his committee and he began to pursue a college teaching position.
Endorsements
This is an up-to-date, timely, and scholarly treatment of a crucial dimension of the Christian faith by one of the foremost historical apologists in America today.