Find this product on Logos.com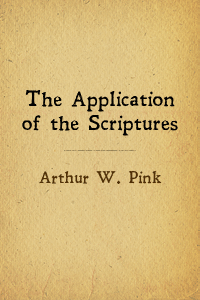 The Application Of The Scriptures
A Biblical Refutation of Dispensationalism
Product Details
The Application of the Scriptures originally appeared as a series of five articles in Pink's Studies of the Scriptures in June through October 1952. In these articles, Pink presents a simple and scriptural argument against the system of teaching known as dispensationalism.
About the Author
Arthur Walkington Pink was born in Nottingham, England on April 1, 1886 and became a Christian in 1908, at the age of 22. Desiring to grow in knowledge of the Bible, Pink immigrated to the United States in 1910 to study at Moody Bible Institute in Chicago, Illinois. He left the Institute after two months and pastored a church in Silverton, Colorado. He becoming an traveling Bible teacher in 1919 and had short term pastorates in California, Kentucky and South Carolina.
From 1925 to 1928 he served in Australia and then he returned to England, and finally to the United States the following year. In 1932 he started a monthly magazine entitled Studies in the Scriptures which circulated among English-speaking Christians worldwide, though only to a relatively small circulation list of around 1,000. In 1934 Pink returned to England, and within a few years turned his Christian service to writing books and pamphlets.
Mr. Pink's view of the Scriptures, of doctrine, and of Christian practice was not the view of the twentieth century, nor even of many of his contemporary Evangelicals. Few men have traveled so widely and yet remained so uninfluenced by prevailing opinions and accepted customs. When Puritan and reformed books were generally disregarded by the Church as a whole, he advanced the majority of their principles with untiring zeal. Events have justified his outlook. Two World Wars have substantiated his view on human depravity; the progressive decline of his nation (Britain) was to him the inevitable consequence of the prevalence of a gospel which is able neither to wound nor heal. Familiar with the whole range of revelation, Mr. Pink was rarely sidetracked from the great themes of Scripture: grace, justification, and sanctification. He was, in some ways, a Puritan born out of time.
In 1940 Pink took up residence on the Isle of Lewis, Scotland and lived a very isolated life. Pink died in Stornoway, Scotland on July 15, 1952. The cause of death was anemia. After Pink's death, his works were republished by a number of publishing houses, among them, Banner of Truth Trust, Baker Book House, Christian Focus Publications, Moody Press, Truth for Today, and reached a much wider audience as a result. Biographer Iain Murray observes of Pink, "the widespread circulation of his writings after his death made him one of the most influential evangelical authors in the second half of the twentieth century." His writing sparked a revival of expository preaching and focused readers' hearts on biblical living. Yet, even today, Pink is left out of most biographical dictionaries and overlooked in many religious histories.