Find this product on Logos.com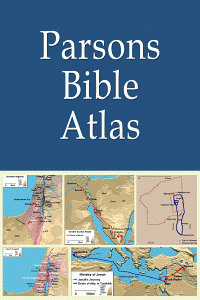 Product Details
The Parsons Bible Atlas is a unique, interactive Bible study tool. The book's atlas includes detailed information on over 100 biblical people, places, stories, and kingdoms. It also includes hundreds of shorter articles in a dictionary-like section that features pronunciations, definitions, cross references and more.
The book also features a maps section. Each full-length article in the atlas portion of the text links to a relevant map. Each map lists the cities, geographical regions, seas, and more in a side-bar; click on the particular place you want to see, and a box will be drawn around that location for easy pin-pointing. Additionally, if you'd like to see where the biblical location exists today, simply press the Google maps toggle button, and you'll instantly see the present-day location of a biblical location. Want to get back to the atlas? No problem, because it will remain open next to your map - unless you choose to close it. Want to start with the map, then move to the atlas? Each map's side-entry is linked to the relevant article.
This resource is sure to assist you in your Bible studies!