Find this product on Logos.com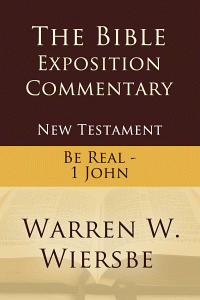 Be Real: 1 John
The Bible Exposition Commentary
Highlights
Over six million of his commentaries have been distributed worldwide in 35
languages, including Arabic, Bengali, Hindi, Portuguese, and Chinese
Verse-by-verse commentary
Features personal applications and strong Biblical content
Product Details
"Like a child eating cotton-candy at the circus, many people who expect to bite into something real end up with a mouthful of nothing. They waste priceless years on empty substitutes for reality." Through clever word pictures like this that strike the reader with their simple truth, acclaimed best-selling author and former pastor Warren Wiersbe shares priceless unchanging realities as he opens up the book of 1 John.
Though Be Real is originally copyrighted in 1972, Wiersbe's text is as enchantingly timeless as the truths in the Bible itself! His humor is witty, his research is extensive, his historical context is deep, and his commentary is solidly based on the Word of God. In fact, the "Word was with God, and the Word was God" (John 1:1) is the crux upon which he builds to explain the manifestation of a perfect, holy Supreme Being to this hurting world of finite sinners. Heaven blesses earth and the Divine Creator becomes one of the created in this personal and/or group study that you will not soon forget.
About the Series
The Bible Exposition Commentary reads like a letter from a dear friend. This compilation will help you discover the exciting truths of the Old and New Testament scriptures - all wrapped in the warm, personal style of one of America's best-loved Bible teachers.
Study the entire Old and New Testaments, from Genesis through Revelation, in digestible sections that emphasize personal application as well as biblical content. Hundreds of thousands of pastors, teachers, and students of the Word have benefited from this best-selling series that has over 3 million copies in print.
All of Dr. Warren Wiersbe's popular Be books are available to Wordsearch customers!
Be Basic: Genesis 1-11
Be Obedient: Genesis 12-25
Be Authentic: Genesis 25-50
Be Delivered: Exodus
Be Holy: Leviticus
Be Counted: Numbers
Be Equipped: Deuteronomy
Be Strong: Joshua
Be Available: Judges
Be Committed: Ruth
Be Committed: Esther
Be Successful: 1 Samuel
Be Restored: 2 Samuel & 1 Chronicles
Be Responsible: 1 Kings
Be Distinct: 2 Kings, 2 Chronicles
Be Determined: Nehemiah
Be Patient: Job
Be Worshipful: Psalms 1-89
Be Exultant: Psalms 90-150
Be Skillful: Proverbs
Be Satisfied: Ecclesiastes
Be Comforted: Isaiah
Be Decisive: Jeremiah
Be Reverent: Ezekiel
Be Resolute: Daniel
Be Amazed: Hosea, Joel
Be Amazed: Jonah
Be Amazed: Nahum, Habakkuk
Be Amazed: Malachi
Be Concerned: Amos, Obadiah
Be Concerned: Micah
Be Concerned: Zephaniah
Be Heroic: Haggai, Zechariah; and the previously unpublished study of Lamentations
Be Loyal: Matthew
Be Diligent: Mark
Be Compassionate: Luke 1-13
Be Courageous: Luke 14-24
Be Alive: John 1-12
Be Transformed: John 13-21
Be Dynamic: Acts 1-12
Be Daring: Acts 13-28
Be Right: Romans
Be Wise: 1 Corinthians
Be Encouraged: 2 Corinthians
Be Ready: 1 & 2 Thessalonians
Be Free: Galatians
Be Complete: Colossians
Be Rich: Ephesians
Be Joyful: Philippians
Be Faithful: 1 & 2 Timothy, Titus, Philemon
Be Hopeful: 1 Peter
Be Real: 1 John
Be Alert: 2 Peter
Be Alert: 2 & 3 John, Jude
Be Confident: Hebrews
Be Mature: James
Be Victorious: Revelation
About the Author
Warren Wendel Wiersbe is an American pastor, Bible teacher, conference speaker and a prolific writer of Christian literature and theological works. Born on May 16, 1929 in East Chicago, Warren Wiersbe is perhaps best known for his Be Series.
Warren Wiersbe studied at Indiana University, Roosevelt University, and graduated from Northern Baptist Theological Seminary in 1953. While attending Seminary, Warren Wiersbe was ordained as pastor of Central Baptist Church in 1951 and served there until 1957. From September 1957 to 1961, Warren Wiersbe served as Director of The Literature Division for Youth for Christ International. From 1961 to 1971, he pastored Calvary Baptist Church of Covington, Kentucky. The church grew from eight hundred to two thousand. From 1971 to 1978, Warren Wiersbe pastored Chicago's Moody Memorial Church.
Warren Wiersbe was awarded two honorary Doctorate Degrees and has accumulated in his personal library more than ten thousand books. Oftentimes referred to as "the pastor's pastor", Dr. Wiersbe has become a well-known and trusted Bible theologian and scholar throughout Fundamental and Evangelical circles. He and his wife, Betty, reside in Lincoln, Nebraska.
Endorsements
Dr. Warren W. Wiersbe serves as a faithful guide to the explorer of the Word of God in The Bible Exposition Commentary. These commentaries will encourage an enlightening expedition from Genesis to Revelation. Dr. Wiersbe enables the reader to begin this educational excursion with excitement. I recommend them enthusiastically!
One of the greatest Bible expositors of our generation.
Warren Wiersbe has written or edited over 200 books. I have them all. Why? He's so balanced and biblical. While I'm blessed to have him as a treasured friend and hero, he doesn't want to be on the phone with me everyday. But I can read his works any day that I want. His BE series should be in everyone's library. It will keep you from chasing tangents in the Scriptures. His books on preaching, ministry, and a host of other subjects will encourage you.