Find this product on Logos.com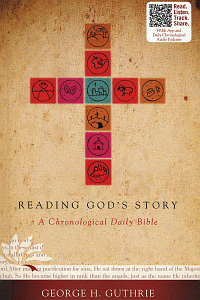 Reading God's Story
A Chronological Daily Bible
Highlights
Includes a 52-Week Reading Plan Page Design
Chronologically Arranged Version of the Holman Christian Standard Bible
Product Details
God's Grand Story. Your Story.
Stories are basic to life. Everybody loves a good story. We have been reading, listening to, or watching stories all of our lives, so we intuitively know a lot about how they work. Yet, more and more, Christians are unfamiliar with the stories of the Bible and how the grand narrative of God's Word fits together. Indeed, God gave us the stories of the Bible to reveal great truth about Himself and about our lives, and He wants to draw us into the ongoing story of what He is doing in the world. By focusing on the narrative framework of Scripture we can better understand what the Bible teaches and live out its instruction more effectively.
Reading God's Story takes that clear narrative approach to the Bible, arranging the complete text into a fresh chronological reading plan developed for the Read the Bible for Life Biblical Literacy Initiative. In this plan the books, chapters, and verses of the Bible are thoughtfully arranged so readers can track the story of Scripture, day by day, from beginning to end, understanding the flow of events and how all the different parts fit together to make sense.
You'll get a better view of God's grand story in three easy-to-remember acts and 17 memorable scenes
Act 1: God's Plan for All People
Act 2: God's Covenant People
Act 3: God's New Covenant People
Introductions are provided for each act and scene to orient you to their importance and remind you of where you are in the grand story. Additionally, you'll never lose your spot, because this special Bible includes a 52-week reading plan page design (six days of Bible reading per week). Due to this helpful formatting, you'll find Reading God's Story under the Devotionals section of your Library upon purchasing, downloading, and installing.
About the Author
George H. Guthrie is the Benjamin W. Perry Professor of Bible at Union University in Jackson, Tennessee. He helped establish and is now a Senior Fellow at Union's Ryan Center for Biblical Studies, which is committed to promoting sound Bible reading, study, and interpretation at the grassroots level of the church. Guthrie is also the author of Read the Bible for Life and has participated in developing or revising several popular Bible translations including the HCSB, the English Standard Version, and the New Living Translation.