Find this product on Logos.com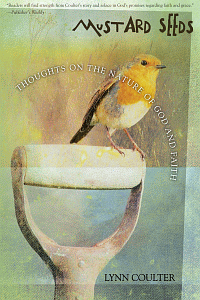 Mustard Seeds
Thoughts on the Nature of God and Faith
Product Details
C.S. Lewis likened hard times to "God's megaphone," a season when the Creator's ways are made clear and proven merciful. Mustard Seeds author Lynn Coulter agrees, writing here across fifteen essays about the natural graces and "God signs" that emerged during a three-year period of hardship that sustain her faith today.
From personal events (her parents' deaths, a job loss) to universal cripplers (stress, worry), Coulter's fresh anecdotes unearth the little daily markers of God's love and care while staying rooted in Scripture. Her writings fuse the observational strength of Anne Lamott's nonfiction with the warm delivery of Sue Monk Kidd's devotional books and are sure to be passed around as tools of encouragement and faith-strengthening among friends.
About the Author
Sky, Family Circle, and Southern Living magazines as well as The Weather Channel, Lionel Trains, and the Atlanta Journal-Constitution. She graduated summa cum laude with a degree in Journalism from Georgia State University and has received literature grants from the Georgia Council for the Arts and the Society of Children's Book Writers and Illustrators. The author of Mustard Seeds: Thoughts on the Nature of God and Faith, Lynn lives with her family near Atlanta.