Find this product on Logos.com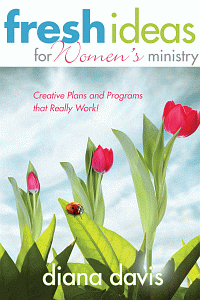 Fresh Ideas for Women's Ministry
Creative Plans and Programs That Really Work!
Product Details
Picture this: women of all ages arriving in droves to the church building, excited that their weekly ministry together is about to begin. Syndicated columnist and pastor's wife Diana Davis knows this can happen wherever the women's ministry program is purposeful, of top quality, and fresh. Fresh Ideas for Women's Ministry compiles her enthusiastic knowledge of church organization to help others with creating and sustaining a vibrant, outward-focused ladies' program. Part resource book, part planning tool, it all adds up to a proven plan that joyfully blends discipleship, missions, fellowship, and special events with an emphasis upon hands-on ministry.
About the Author
Diana Davis writes regular feature articles for several Christian publications and is a popular conference and retreat speaker. Her books include Fresh Ideas, Fresh Ideas for Women's Ministry, and Deacon Wives. Diana also travels extensively with her husband, Steve Davis, executive director for the State Convention of Baptists in Indiana. They have three adult children and live in Indianapolis.