Find this product on Logos.com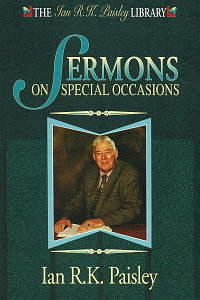 Sermons on Special Occasions
Product Details
This volume includes fifteen sermons preached on special occasions to congregations ranging in numbers from one thousand to fifteen thousand people. These expositions span a unique part of the fifty years of Ian Paisley's ministry.
The First Sermon Preached in the New Church Building
Where Is the Lord God of Elijah?
Mary Magdalene at the Empty Tomb
The Fundamentalist Confession
The One and Only Subject of the Gospel
Not Ashamed of the Gospel
The Tears of the Minister
The Temptations of the Minister
World Empires Crash but God Remaineth
The Big Bang versus the Big God
Swearing Allegiance to King Jesus
The Queen's Silver Jubilee
There's No Place Like Hell
Back to the Cross
Sixty Years in Christ: A Personal Testimony
About the Author
Ordained in 1946, Ian Paisley has maintained a steadfast Bible ministry on the Ravehill Road, Belfast, Northern Ireland, for 50 years. His name is synonymous throughout the world with the defense of the historic Christian faith as revealed in the Word of God.