Find this product on Logos.com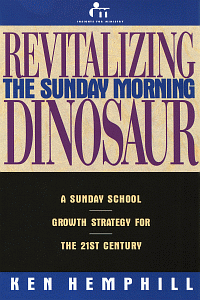 Revitalizing the Sunday Morning Dinosaur
A Sunday School Growth Strategy for the 21st Century
Product Details
Is your Sunday School Program lumbering toward extinction? These action steps can help you turn it into a roaring success.
According to church growth expert, Ken Hemphill, Sunday School is not only worth saving, it has potential to revitalize your entire church. Revitalizing the Sunday Morning Dinosaur gives you specific, detailed steps on how to lead your congregation in making it happen, including:
Six reasons for the decline of Sunday School
Nine reasons why Sunday School is the growth of the future
How to revive an ineffective Sunday School program or start a new one
How to keep a good Sunday School going strong
Turn your Sunday School program from one of extinction to one of distinction.
About the Author
Dr. Ken Hemphill is president of Southwestern Baptist Theological Seminary and a leading authority on church growth. Previously he was director of the Southern Baptist Center for Church Growth. He is the author of The Antioch Effect: 8 Characteristics of a Healthy Church, and numerous other books on building and strengthening churches.