Find this product on Logos.com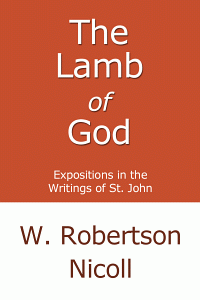 The Lamb of God
Expositions in the Writings of St. John
Product Details
In Mr. Nicoll's work he gives seven different expositional views of how Jesus is represented as the Lamb of God. The figure of the Lamb holds a prominent place in the fourth gospel and also rules the Apocalypse. The author emphasizes that the slain Lamb, the word used signifying sacrifice, is a concept that naturally aligns itself with that contained in the nineteenth chapter of the fourth gospel, where stress is laid on the fact that blood flowed from Jesus at His death.
Here is a listing of chapters included in this title:
Holy, Harmless, and Undefiled
The Sin-Bearing Lamb
The Lamb in the Midst of the Throne
The Lamb Opening the Sealed Book
The Warrior Lamb
The Marriage of the Lamb
The Wrath of the Lamb
About the Author
Sir William Robertson Nicoll was an ordained minister of the Free Church at Dufftown, Banffshire. In 1886 he moved south to London and began his editorship of The Expositor and the British Weekly, posts which he held for the rest of his life. He made the British Weekly widely influential, published several religious and secular books, was knighted in 1909, and was made a companion of honor (a prestigious order) two years before his death in 1923.
Nicoll was a prolific editor of expository works and left behind a literary legacy that has placed all preachers in his debt. This scholar is rightly remembered for such works as The Expositor's Bible,The Expositor's Dictionary of Texts,The Sermon Bible,and the Expositor's Greek Testament, all of which he edited.