Find this product on Logos.com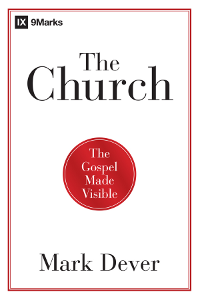 The Church
The Gospel Made Visible
Product Details
Christians face lots of practical questions when it comes to life in the local church: How is the gospel displayed in our lives together? What are we supposed to do and believe? Different followers answer differently—even as they preach the same gospel! What should we think about such differences? A church's life, doctrine, worship, and even polity are important issues. Yet they are so rarely addressed. The Church is Mark Dever's primer on the doctrine of the church for all who see Scripture alone as a sufficient authority for the doctrine and life of the local church. He explains to the reader what the Bible says about the nature and purpose of the church— what it is, what it's for, what it does. Indeed, Scripture teaches us about all of life and doctrine, including how we should assemble for corporate worship and how we're to organize our corporate life together. God has revealed himself by his Word. He is speak- ing to us, preparing us to represent him today, and to see him tomorrow! A congregation of regenerate members, fulfilling the responsibilities given to us by Christ himself in his Word, regularly meeting together, led by a body of godly elders, is the picture God has given us in his Word of his church.
About the Author
Mark Dever is senior pastor of Capitol Hill Baptist Church in Washington, DC and president of 9Marks. He holds degrees from Duke University (B.A.), Gordon-Conwell Theological Seminary (M.Div.), The Southern Baptist Theological Seminary (M.Theol.), and Cambridge University (D.Phil.)
Endorsements
The church today desperately needs to think more deeply about the church. That's why I'm incredibly thankful for Mark Dever. No one writes as passionately, as winsomely, as biblically, or as practically about the church. This book is a wonderful example of all those traits. Even though my theology is different on a few important points like baptism and congregationalism, I always learn from Mark when he talks ecclesiology. If you love the church, you'll love this book. And if the doctrine of the church sounds terribly unimportant, then you need to read this book even more.
Mark Dever has rendered an invaluable service to the Body of Christ in this book. Its biblical grounding is sure, and its theological insights are spot on! Few address the issues of ecclesiology better than this pastor/theologian. This work will help us better understand what the church is and what the church does when it is faithful to Scripture.
For far too long, the church has suffered for its lack of attention to ecclesiology. Thankfully, that neglect has given way to a new age of rediscovery, and Mark Dever has been a key catalyst for the recovery of biblical ecclesiology. In this book, you will find a faithful, truthful, thrilling understanding of the church. But be warned: Once you read this book, you will never be satisfied until you are a part of a church that is growing into this kind of faithfulness and life.