Find this product on Logos.com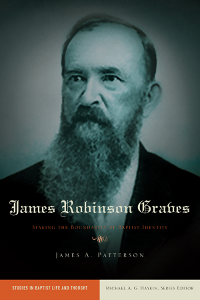 James Robinson Graves
Staking the Boundaries of Baptist Identity
Product Details
James Robinson Graves (1820-1893) is known for firmly believing that Baptists of his day needed clearly distinct markers in order to preserve a meaningful denominational identity. The founder of Landmarkism, his theology emphasized church succession (an unbroken trail of authentic congregations dating back to the New Testament), the local church (rather than the idea of a universal Body of Christ), and strict baptism guidelines.
In this first biography of Graves in more than eighty years, author James A. Patterson portrays the man as bold and brash. A native of Vermont who moved south to Nashville in 1845, the self-educated preacher and budding journalist would become a combative defender of the Baptist cause, engaging in public controversy with Methodists, Restorationists, and even fellow Baptists.
Ultimately, Graves sought to influence the direction of the Southern Baptist Convention in its formative period and was the primary shaper of the "Tennessee Tradition," now considered a key strand of Southern Baptist life and identity. By focusing on Graves's understanding of essential Baptist boundary markers, this book assesses the strengths and weaknesses of the Landmark legacy. It concludes with an epilogue that discusses the enduring influence of his ideas in the decades after his death.
About the Author
James A. Patterson is university professor of Christian Thought and Tradition and associate dean of the School of Theology and Missions at Union University in Jackson, Tennessee.
Endorsements
An impressive and important treatment of the life, thought, and seemingly non-stop activities of one of the most controversial Baptist leaders of all time. Not only is this first-rate volume a valuable analysis of J.R. Graces, but it is also an informative look at nineteenth century Baptist life.
Based on painstaking research, this important book fills an extraordinary hole in Baptist scholarship.
Here is Baptist history at its best...Historians and theologians will esteem its precision; pastors and church leaders will welcome its relevance.
Jim Patterson is one of our ablest historians, and he has given us a superb biography of the indomitable J.R. Graves, the South's most influential Baptist in the nineteenth century. A great read!