Find this product on Logos.com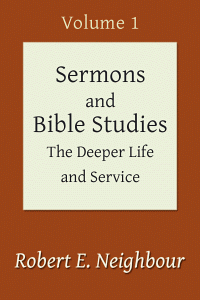 Sermons and Bible Studies: Volume 1
Product Details
This first volume in the twelve-volume Sermons and Bible Studies contains 18 sermons-Bible studies. Each sermon-Bible study is divided into succinct sub-points for easy reading, study, and delivery. For example, the first sermon-Bible study Dr. Robert E. Neighbour delivers is titled, "Following the Lord Fully." Here is how Dr. Neighbour organizes his text:
Following Christ in Salvation
Following Christ through Deprivations
Following Christ above Relatives
Following Christ above Riches
Following Christ above Self
Following Christ Even Unto Death
Following Christ Amid the Raptured Saints
Following Christ and Reigning with Him
Following Christ No Matter What Others Do
About the Author
Dr. Robert E. Neighbour was born August 10, 1872 in Three Oaks, Michigan and grew up in Dennison, Texas. He was educated at Baylor University and was a classmate of Dr. George W. Truett.
From Baylor, Dr. Neighbour went to serve in Brazil as a missionary, and when he returned to the United States, he was associated with John A. Broadus in evangelistic campaigns for a year.
Neighbour served as the pastor of churches in Dublin, Georgia; Americus, Georgia; Salisbury, North Carolina; Spartanburg, South Carolina; Athens, Georgia; Augusta, Georgia; Macon, Georgia; Elyria, Ohio; and, Vancouver, B.C.
Dr. Neighbour was the author of several books, including: Gems of Gold, The Rider on the White Horse, Pre and Post Millennialism, Books on James, Galatians, Ephesians, Ecclesiastes, Song of Solomon, and numerous booklets on a variety of subjects, such as sanctification, church separation, and prophecy.