Find this product on Logos.com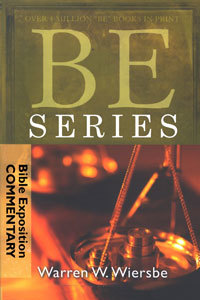 BE Series Bundle
The Bible Exposition Commentary
Highlights
Over six million of his commentaries have been distributed worldwide in 35 languages, including Arabic, Bengali, Hindi, Portuguese, and Chinese
Verse-by-verse commentary
Features personal applications and strong Biblical content
Product Details
Imagine owning a bookshelf with 57 volumes of practical advice on the whole Bible. Whatever passage you might be studying, deeper insight would be at your fingertips. That's what the Bible Exposition Commentary Series brings to your Wordsearch library.
This library is called the BE Series because Warren Wiersbe discovered that every book of the Bible tells us to "be" something. Each volume is titled with the word "Be." For instance, Matthew, Mark, Luke, and John are titled: Be Loyal, Be Diligent, Be Compassionate, and Be Alive. Wiersbe's commentary more than lives up to its title, and consulting it will keep your focus on all that God desires you to be.
Wiersbe takes a positive and upbeat approach to commenting on the Scriptures. He gives advice that encourages action. He's not overly-technical, and often pauses to point out important emphases hidden in the Bible text. He inserts personal and homespun stories in just the right spots. They serve as practical examples that illustrate key Bible truths. Your knowledge of the Bible and its applications to your life will deepen and grow with the BE Series at your side.
Wiersbe's practical approach to commenting on Scripture is filled with material you will find easy to adapt to sermons and Bible lessons. All of the Bible is covered in these 57 volumes, and you'll find the Topical and Reference Explorer features of Wordsearch will quickly show you what Wiersbe has to say on any Scripture or topic.
Check out a sample by clicking on the Sample button. Read more about each volume by clicking the book cover images below.
About the Author
Warren Wendel Wiersbe is an American pastor, Bible teacher, conference speaker, and a prolific writer of Christian literature and theological works. Wiersbe studied at Indiana University, Roosevelt University, and graduated from Northern Baptist Theological Seminary in 1953. While attending Seminary, Warren Wiersbe was ordained as pastor of Central Baptist Church in 1951 and served there until 1957. From September 1957 to 1961, Wiersbe served as director of the literature division for Youth for Christ International. From 1961 to 1971, he pastored Calvary Baptist Church of Covington, Kentucky. The church grew from eight hundred to two thousand. From 1971 to 1978, Warren Wiersbe pastored Chicago's Moody Memorial Church.
Wiersbe was awarded two honorary Doctorate Degrees and has accumulated in his personal library more than ten thousand books. Oftentimes referred to as "the pastor's pastor", Wiersbe has become a well-known and trusted Bible theologian and scholar throughout fundamental and evangelical circles.
Endorsements
Dr. Warren W. Wiersbe serves as a faithful guide to the explorer of the Word of God in The Bible Exposition Commentary. These commentaries will encourage an enlightening expedition from Genesis to Revelation. Dr. Wiersbe enables the reader to begin this educational excursion with excitement. I recommend them enthusiastically!
One of the greatest Bible expositors of our generation.
Warren Wiersbe has written or edited over 200 books. I have them all. Why? He's so balanced and biblical. While I'm blessed to have him as a treasured friend and hero, he doesn't want to be on the phone with me everyday. But I can read his works any day that I want. His BE series should be in everyone's library. It will keep you from chasing tangents in the Scriptures. His books on preaching, ministry, and a host of other subjects will encourage you.
Products Included In This Bundle