Find this product on Logos.com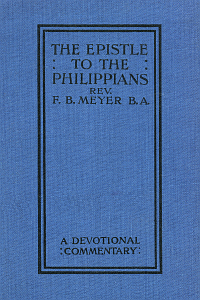 The Epistle to the Philippians
A Devotional Commentary
Product Details
In this devotional Meyers does not attempt merely to write something critical or exegetical; but has endeavored honestly to ascertain the meaning of the Apostle. Meyers acknowledges that when we bear in mind all the explanation, expansion, application, and enforcement which the epistle to the Philippians has received in the course of centuries we are still in need of Divine intervention to even comprehend the smallest of its meaning. Included are these chapter titles:
Grounds and Purpose of Prayer
The Entwining of Christian Hearts
The Soul's Quest
The Lord is at Hand
The Government of Our Thoughts
About the Author
One of the greatly loved preachers of his day, Frederick Brotherton Meyer was a pastor, author, Bible teacher and evangelist. He was born in London in 1847.
Dr. Meyer began pastoring in 1870, and in 1872 he went to Priory Street Baptist Chapel. There he met D. L. Moody, who made a lasting impression upon his life and taught him valuable spiritual lessons. These two godly men formed a lifelong friendship.
During his long and fruitful life, he preached more than 16,000 sermons. Said one author: "The phrasing of Meyer's sermons was simple and direct; he polished his discourses as an artist polishes a perfect stone. There was always a glowing imagery in his words; his speech was pastoral, lovely as an English valley washed in sunlight…In his day, great wars raged. Those who went to hear him forgot the battles."
A distinct feature of F. B. Meyer's ministry was his outcry against the social evils of his day. Not only was he effective in the temperance movement, but he was also responsible for the closing of over 500 houses of prostitution. He also formed a prison aid society.
A devoted student of God's Word, he was the author of over 40 books, including Bible biographies (character studies), devotional commentaries, sermon volumes and expository works. He also authored several pamphlets and edited a number of magazines.
Endorsements
Dr. F. B. Meyer is one of the great preachers of a past generation