Find this product on Logos.com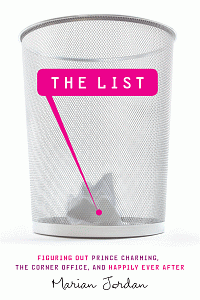 The List
Figuring Out Prince Charming, the Corner Office, and Happily Ever After
Product Details
Every girl has her version of "The List," a handful of goals she wants to achieve (school, travel, career, marriage, children, etc.) by a certain age. But if those dreams don't come true according to schedule—or they do but don't meet expectations—what then?
Marian Jordan (Wilderness Skills for Women) says there's a better list to live by, a God-honoring, in-the-moment set of priorities that makes every season of life beautiful however long it may last. The biblical aspirations she prescribes and enthusiastically elaborates on are to Shine, Hope, Pursue Beauty, Seek First, and Dance. If a girl can embrace this list above all else, she may find herself already in the midst of her happily ever after.
About the Author
Marian Jordan is the founder of Redeemed Girl Ministries, showing girls of all ages how to apply God's truth and promises to their individual circumstances. The author of Sex and the City Uncovered and Wilderness Skills for Women, she lives in Houston and recently completed her master's degree at Southwestern Seminary.