Find this product on Logos.com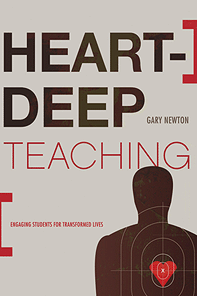 Heart-Deep Teaching
Engaging Students for Transformed Lives
Product Details
Based on a biblical understanding of the "heart" as the innermost essence of a person--involving the mind, emotions, and will--Heart-Deep Teaching focuses on both the best theory and best practices to stimulate deeper student learning. When the heart is engaged by the power of the Holy Spirit within the context of God's Word, both character and behavioral changers occur.
By integrating accurate methods of analyzing the biblical text and current research in teaching and learning, Gary Newton helps teachers understand the theoretical and practical skills to create their own lessons, adapt lessons from published curriculums, and improve their own strategies of studying and teaching the Word.
About the Author
Gary C. Newton is professor of Discipleship Ministries and director of the Discipleship Ministry and Family Ministry majors at Crown College in St. Bonifacius, Minnesota. He also wrote Growing Toward Spiritual Maturity.
Endorsements
Why does so much Christian teaching fail to fulfill the biblical mandate to transform lives through the impartation of living truth?...This wise and well-written book helps correct this pedagogical tragedy and should be read by all Christian teachers and preachers.
This book meets a crucial need in today's churches. Thousands of faithful people teach Bible studies each week. Yet they often do not know how to teach the Bible to transform lives. Writing from years of teaching and pastoral experience, Gary Newton guides you in the exciting journey of getting to the heart of the text to get a t the heart of readers.
Newton raises the right questions about teaching in a Christian setting and provides guidance and examples for teachers from start to finish in the lesson-planning process.
Gary Newton thinks that too much ministry too shallowly engages the Bible for too little impact. I couldn't agree more..I can testify that this book more fully articulates a passion that he has lived and taught for as long as I've known him. Not only does Gary identity the problem without mincing words, he coaches us how to be used by God's Holy Spirit for teaching that changes lives.
In a world characterized by ignorance of any source of authority other than personal perspectives, Heart-Deep Teaching provides an insightful process for discovering the Big Ideas from biblical passages and finding ways to aid learners to be transformed by the Holy Spirit through applying the Scripture to their hearts, to the core of who they are.