Find this product on Logos.com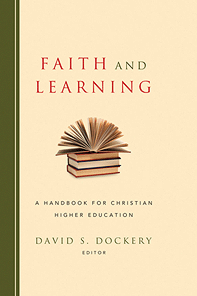 Faith and Learning
A Handbook for Christian Higher Education
Product Details
Faith and learning, scholarship and piety, Christian tradition and intellectual inquiry, head and hearts: How do these things come together in an informative, enriching, and interdependent way?
The calling of Christian higher education is to reflect the life of Christ and to shine the light of truth. That distinctive mission cannot be forced into an either/or framework but rather a both/and calling. It is a commitment to Jesus Christ himself, who is both fully God and fully human and who for Christian educators is both light and life.
This multi-authored volume, with dynamic contributions from entry-level faculty members to seasoned scholars, explores the question of the Christian faith's place on the university campus, whether in administrative matters, the broader academic world, or in student life.
Philosophy, Sociology, Science, Arts, Business, Media; Faith and Learning explores how significant Christian thinkers have addressed such topics and their related issues throughout the history of the church. The historical, theological, and biblical framework will help students interact with and engage contemporary challenges to the Christian faith in the various fields of study and inquiry.
Contributors include Harry L. Poe, Gene C. Fant, Jr., Ken Magnuson, Klaus Issler, Gregory A. Thornbury, Taylor Worley, John T. Netland, Scott Huelin, James A. Patterson, Hunter Baker, Roman R. Williams, Steve Halla, Christopher W. Mathews, Kevin Trowbridge, Mark Bolyard, Jeannette Russ, E. Blake Watkins, Mary Anne Poe, Emily Lean, Thomas Rosebrough, Ralph Leverett, Kimberly C. Thornbury, and C. Ben Mitchell.
About the Author
David S. Dockery is president of Union University in Jackson, Tennessee. He has also served as chairman of the board of the Council for Christian Colleges and Universities. Dockery has authored or edited thirty books including Renewing Minds, Shaping a Christian Worldview, and Christian Leadership Essentials. In addition, he serves as a consulting editor for Christianity Today magazine.
Endorsements
Faith and Learning speaks clearly and with great insight to what I believe is the preferred future of Christian higher education. David Dockery and 24 contributing authors have created a road map to a thriving and effective Christian university built on the foundation of our historic Christian intellectual tradition. This seminal book gives both depth and breadth to the idea that a Christian university can be in the future what it was in the past...a confessional community where Christ-centered truth illuminates our scholarship and transforms our character.
Time and again, David Dockery assembles a first-rate team of scholars to grapple with the important and timeless issues of biblical integration. Once more he has not disappointed. The centrality of God to all knowledge is why the integration of faith and learning in Christian higher education is so critical. This book calls us back to the Christian intellectual tradition with a firm theological foundation, offering a discipline-by-discipline, illumination of all truth as God's truth.