Find this product on Logos.com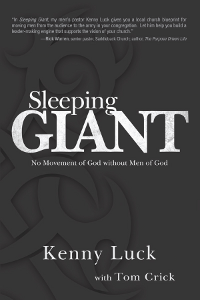 Sleeping Giant
No Movement of God Without Men of God
Product Details
The church has an "800 pound gorilla" in the room: Men.
Many pastors see the need but are at a loss for how to really engage men in their culture and church context. Deep down they know they haven't yet inspired men into the mission and vision of the local church on the same scale as women. Meanwhile, most men feel further detached from worship, left only with worldly expressions of manhood to fuel their identity.
Sleeping Giant is a punch in the gut and pat on the back for pastors and men worldwide, a powerful biblical approach that will bring them together and awaken some serious ministry potential.
And a church that gets men right can slay another dragon: Global injustice.
Injustice against women, children, and all innocents is rooted in broken male culture. The Bible says "Just as through the disobedience of the one man many were made sinners, so also through the obedience of one man many will be made righteous" (Romans 5:19). As the church disciples men into an identity and purpose that transcends culture, they will move from Adam and death over to Jesus and life.
You can see it taking place in Acts 2 following Pentecost, when widespread repentance and changing of men's hearts brought God's justice and relief to people. A masculine revolution happened then, and it can happen today.
About the Author
Kenny Luck is the men's pastor at Saddleback Church in Lake Forest, California, and the founder/president of Every Man Ministries, helping churches worldwide develop and grow healthy men's communities. An ECPA Platinum Award-winning author, he has written or cowritten twenty books including Every Man, God's Man and Every Young Man. Kenny and his wife have three children. He also plays in a men's soccer league, mountain bikes, and loves flag football on Thanksgiving morning.
Endorsements
"In Sleeping Giant, my men's pastor Kenny Luck gives you a local church blue print for moving men from the audience to the army in your congregation. Let him help you build a leader making engine that supports the vision of your church."
"Sleeping Giant does what it infers – awakening men to their calling and potential. It's a life-changer and a church-changer."
"Kenny Luck has a proven track record of raising up a generation of Godly men and equipping them to make a difference. I highly recommend this book for you and your church."
"Few books that I have seen in recent years so explore unexplored potential in the church as this one does. Kenny Luck has offered an opportunity that we must not miss. Here is HELP for all of us, don't miss it!"
"Kenny Luck has faithfully and effectively led an army of men in the mission of God. Sleeping Giant skillfully shows church leaders how to reach and launch men into a world of great need for God's great glory. Devour this book!"