Find this product on Logos.com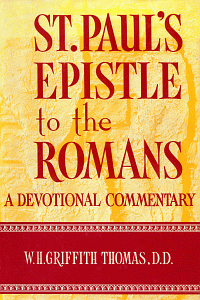 St. Paul's Epistle to the Romans
A Devotional Commentary
Product Details
In this devotional commentary on Romans, Dr. Thomas has written an inspiring commentary marked by exact scholarship as well as devotional spirit. Dr. Thomas was a master of outline and analysis, and his commentaries, especially this one, have long delighted the heart of the preacher, Bible student and layman.
The writer makes clear that the Apostle's own spiritual experiences are the key to his meaning, and only as the reader enters into similar experiences will he be able to interpret the Apostle's accurately.
Everywhere throughout his commentary on Romans Dr. Thomas has been careful to keep exposition subordinate to spiritual purpose. He challenges the believer in his total self, showing that doctrine and life are one. The heart has ever been kept uppermost, "as it is the heart that must penetrate most deeply into the secrets of this doctrinal, theological, yet always personal epistle."
The language, too, shows that Dr. Thomas was concerned to have his readers see Romans as a book eminently worthwhile for the Christian life as that life is actually lived by the believer. The commentary is easily understood.
Here readers will find Biblical scholarship at its best. More than one reviewer has praised the careful scholarship, exegetical insight and spiritual discernment manifest in this devotional commentary.
As in the other writings of Dr. W. H. Griffith Thomas, readers will find here excellent and deeply inspirational reading of the highest quality - reading that breathes a deep devotion to the Lord Jesus Christ, and unswerving conformity to the written Word.
About the Author
William Henry Griffith Thomas was born in Oswestry, Shropshire, England in 1861. His mother was widowed before he was born, and he spent his early years living with his grandfather. When he was just 16 years old W. H. was asked to teach a Sunday School class at Holy Trinity Church. He received his B.A. from King's College, and in 1895 he became the pastor of St. Aldate's Anglican Church in Oxford and graduated from Oxford University with a Doctor of Divinity.
W. H. Griffith Thomas and his family moved to Toronto, Canada in 1910 where he joined the faculty of Wycliffe College and taught Old Testament literature and exegesis. In 1919 the family moved to Philadelphia, and there Griffith Thomas carried on an extensive conference and writing ministry in North America, Britain and elsewhere. He published 26 Bible study booklets and 24 books. His advice to young preachers was: "Think yourself empty; read yourself full; write yourself clear; pray yourself clean, and then enter the pulpit and let yourself go."
Theologically conservative, Griffith Thomas was both Calvinistic in his soteriology and premillennial in his eschatology. Having befriended Lewis Sperry Chafer in Philadelphia, the two eventually co-founded the Evangelical Theological College, now Dallas Theological Seminary in 1924, the year Thomas died.
Endorsements
Dr. Thomas' careful scholarship, exegetical insight, and personal spiritual experience shed much light upon the difficult places in this important book. He was a master of outline and analysis, and his commentaries breathe a deep devotion to the Lord Jesus and unswerving conformity to the written Word.