Find this product on Logos.com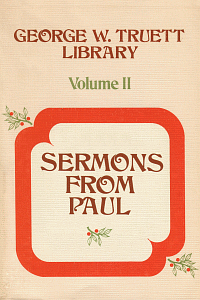 George W. Truett Library, Volume 2: Sermons from Paul
Product Details
Dr. Truett was an ardent admirer of Paul, the Apostle to the Gentiles, and he delighted to quote Paul and preach his texts. Dr. Truett often remarked, "Paul was the greatest single credential of Christianity since Christ ascended from the Mount of Olives." A few of the fourteen sermons in this volume include:
The Adequacy of Christ
Why Christ Died
A Religion That Is Divine
Think on These Things
Permanent Profit
The Secret of Contentment
A Prayer for Patience
About the Author
George W. Truett (1867-1944) was born in North Carolina and accepted Christ in 1886. In 1887, Truett founded the Hiawassee Academy in Towns County, Georgia, but followed his parents to Texas in 1889. The following year, Truett was ordained by Whitewright Baptist Church and soon thereafter Truett took the position of Financial Secretary of Baylor University. Truett began attending Baylor in 1893, began pastoring the East Waco Baptist Church the same year, and married Josephine Jenkins in 1894. Upon his graduation from Baylor, Truett accepted an invitation to pastor the First Baptist Church of Dallas. He remained in this position until his death in 1944.
Truett served as the president of the Southern Baptist Convention and the Baptist World Alliance. He was a trustee of numerous institutions and was a frequently requested speaker at churches and universities. During World War I, he was appointed by President Woodrow Wilson to preach to Allied Forces; and, in 1920, he made his famous address, Baptists and Religious Liberty, on the steps of Congress in Washington D.C.
Numerous health, religious, and educational institutions have designated memorials to him, but, perhaps, the most famous memorial is that of Baylor University's George W. Truett Theological Seminary. Many sermons, addresses, and messages of Truett's have been published, and he is considered one of the most influential men of his time.
Endorsements
He is one of the most notable figures of twentieth-century Christianity - a man to whom, along with millions of Americans, I owe a debt in spirit.