Find this product on Logos.com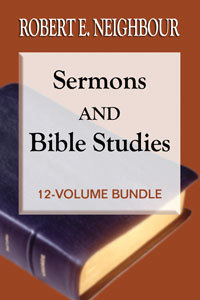 Sermons and Bible Studies: 12-Volume Bundle
Product Details
Sermons and Bible Studies is a twelve-volume set written by the late pastor Dr. Robert E. Neighbour.
The Deeper Life and Service
Characters and Types
Real Salvation Themes
The Psalms and Prophecy
Christ, the Holy Spirit and Satan's Strategies
Christ Jesus
The Glory That Will Follow
God's Men and Their Message
From the Cross to the Crown
Helpful Messages for God's People
God's Message for His Church
God's Message for Israel
About the Author
Dr. Robert Edward Neighbour was born August 10, 1872 in Three Oaks, Michigan and grew up in Dennison, Texas. He was educated at Baylor University and was a classmate of Dr. George W. Truett.
From Baylor, Dr. Neighbour went to serve in Brazil as a missionary, and when he returned to the United States, he was associated with John A. Broadus in evangelistic campaigns for a year.
Neighbour served as the pastor of churches in Dublin, Georgia; Americus, Georgia; Salisbury, North Carolina; Spartanburg, South Carolina; Athens, Georgia; Augusta, Georgia; Macon, Georgia; Elyria, Ohio; and, Vancouver, B.C.
Dr. Neighbour was the author of several books, including: Gems of Gold, Sermons and Bible Studies, The Rider on the White Horse, Pre and Post Millennialism, Books on James, Galatians, Ephesians, Ecclesiastes, Song of Solomon, and numerous booklets on a variety of subjects, such as sanctification, church separation, and prophecy.
Dr. Neighbour died on June 10, 1945 and was buried in a cemetery at Elyria, Ohio. Information kindly provided by the Neighbour family.
Products Included In This Bundle