Find this product on Logos.com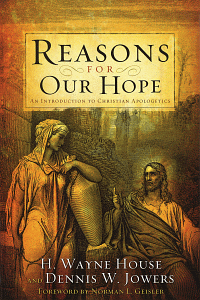 Reasons for Our Hope
An Introduction to Christian Apologetics
Product Details
In the light of current threats posed to Christianity by intolerant secularism, militant Islam, pantheism, postmodernism, and widespread misinformation, the necessity of an informed and articulate defense of the Christian faith today can hardly be contested.
Reasons for Our Hope offers that timely, sophisticated yet accessible guide to destroying speculations and every lofty thing raised up against the knowledge of God (2 Corinthians 10:4-5).The book's thirty-one chapters are divided into four sections.
APOLOGETIC METHODOLOGIES AND SYSTEMS
A helpful overview of worldviews, the tension between faith and reason, etc.
APOLOGETICS IN SCRIPTURE AND IN HISTORY
A look at apologetics in the Old and New Testaments, early church, Middle Ages, Reformation, Enlightenment, and today
APOLOGETIC PROBLEMS
Issues such as the value of philosophy, dealing with skepticism, the problem of evil, miracles, and the resurrection
HOW TO USE APOLOGETICS IN ENGAGING THE WORLD
Guidance to engage the cultist, secularist, postmodernist, Muslim, and Eastern mystic
About the Author
H. Wayne House (M.A., Th.D., J.D.) is distinguished research professor of Theology, Law, and Culture at Faith Evangelical Seminary in Tacoma, Washington, and formerly professor of Law, Trinity Law School of Trinity International University. He is the author of more than thirty books, and is a past president and is past president of the Evangelical Theological Society. He also leads Bible study tours to the Mediterranean and Middle East.
Dennis W. Jowers is professor of Theology and Apologetics at Faith Evangelical Seminary in Tacoma, Washington. He holds degrees from the University of Chicago (B.A.) and Scotland's University of Edinburgh (M.Th., Ph.D.).
Endorsements
Never before has Apologetics been needed more...Few contemporary books on the topic are more comprehensive, more systematic, more well documented, and more well illustrated than this one.
Drs. House and Jowers have done a wonderful job of providing, in a single volume, a full-orbed education in the defense of the faith. We haven't seen a book like this in a long time that delves into the definitions, the methodology, this history, the issues, and the practice of this crucial but neglected field of Christian Apologetics.