Find this product on Logos.com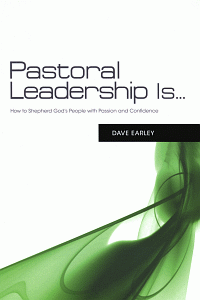 Pastoral Leadership Is...
How to Shepherd God's People with Passion and Confidence
Product Details
Pastoral Leadership Is...presents in dozens of brief yet powerful chapters a practical, Bible-based, and highly readable guide to leading the local church.
What is Pastoral Leadership? Pastoral Leadership is abandoning your life to the call of God, cooperating with the Holy Spirit, leading a church full of leaders, and much more. Instead of letting church culture tell you who a pastor is and what he should do, let God tell you through the Bible. This guidebook to the great adventure of being a pastor follows the directors God gave Moses to effectively shepherd Israel:
Author Dave Earley writes to encourage pastors to become the spiritual warriors, missional leaders, and multiplying mentors God calls them to be. Supporting Scriptures, application tools, and faith-sharing plans are also included.
About the Author
Dave Earley is lead pastor of Grace City Church of Las Vegas, Nevada. He also serves as adjunct professor of Pastoral Leadership for Liberty Baptist Theological Seminary in Lynchburg, Virginia.
Endorsements
You should read this book with an open mind and open heart because Dave Earley knows pastoral leadership...He knew how to involve his team of pastors, as well as hundreds of lay people in reaching their part of the community for Christ, and will help you achieve that goal.
Dave Earley loves God, people, and pastoring. He has spent a lifetime praying, preaching, and planting churches. He can really help you get a grip on what it means to be a pastor and a leader. Don't miss this book. God will speak to you on every page.
This book could not have been written at a better time! North America needs an army of pastoral leaders who embrace prayer, who teach the Word of God, and who leader and mentor leaders.