Find this product on Logos.com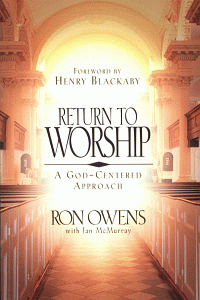 Return to Worship
A God-Centered Approach
Product Details
Rediscover Your True Relationship with Him by Returning to the Worship He Desires.
Worship represents the ultimate opportunity for Christians to communicate with their Creator and pay Him homage. The true meaning of worship, however, is often lost when churches concentrate so much on methods and styles. Ron Owens points out that we must begin with the who of worship, not with the how of worship, since our view of who God is directly impacts how we approach Him. In the rush to develop a form with which we feel comfortable, have we lost sight of God's own plan for worship?
Return to Worship tackles that question with a detailed look at what is essential to worship - and what isn't - based on Scripture. What does Scripture say about worship: individual and corporate? What are the ingredients God is looking for when we worship? With this book, Owens leads the way to restoring authentic worship to today's churches.
Much like Paul with his epistles, Owens addresses contemporary churches and worship leaders through a series of letters written both to inform and encourage. Challenging widely help beliefs and practices, Owens reminds Christians everywhere that the fundamental purpose for which they exist is to worship God. And that out of worship issues everything else in life.
About the Author
Ron Owens is a speaker/songwriter/musician whose ministry has led him all over the world for the past thirty-five years. for ten years, Ron was Henry Blackaby's associate in the office of Prayer and Spiritual Awakening for the Southern Baptist Convention. He has also been consultant for Worship and Music Ministry at the International Mission Board and is presently serving in that capacity with the Slavic Gospel Association, focusing on the lands of Russia.
Endorsements
This book is an invitation to a homecoming - a clear, simple, yet incredibly powerful concept that should not be lightly dismissed by any of us. Worship is the place God has always desired us to be in relation to Himself, and for many of us this will require renewal and restoration. Return to Worship points the way.