Find this product on Logos.com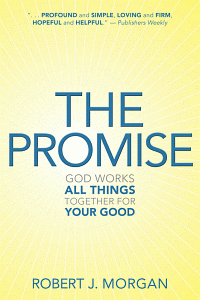 The Promise
God Works All Things Together for Your Good
Product Details
We know that ALL THINGS work together for the GOOD of those who LOVE GOD.-Romans 8:28 (HCSB)
In The Promise, best-selling author Robert J. Morgan (Then Sings My Soul, The Red Sea Rules) illuminates the remarkable power of a single Bible verse that gives us an infinite, unshakable reason to live with confidence and joy. Filled with real world illustrations of triumph over tragedy, The Promise not only equips us to deal more effectively with everyday stress and strain, but also offers true hope to anyone facing serious trouble.
In his personable style, Morgan shares biblical techniques for reversing misfortunes, finding purpose in painful situations, and turning discouragement into resilience. For the good of others, and ourselves, for the deepening of our souls, and for the glory of God--in any hour of need--we have The Promise.
About the Author
Robert J. Morgan is a Gold Medallion Award-winning author and has served as pastor of The Donelson Fellowship in Nashville, Tennessee, for nearly thirty years. He holds degrees from Columbia International University (BS), Wheaton Graduate School (MA), and Luther Rice Seminary (M.Div.). His books include Then Sings My Soul, The Promise, My All in All, and The Red Sea Rules. Rob and his wife have three daughters and nine grandchildren.
Endorsements
David Jeremiah, author of What in the World is Going On?
...PROFOUND and SIMPLE, LOVING and FIRM, HOPEFUL and HELPFUL.
Publishers Weekly
Robert Morgan has done it again! The Promise gives hope to all who are trying to make sense of the difficulties that come their way. God really does work all things together for good. And now we know how!
Stan Buckley, Senior Pastor, First Baptist Church, Jackson, Mississippi