Find this product on Logos.com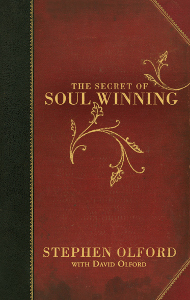 The Secret of Soul Winning
Product Details
The late legendary pastor Stephen Olford's mid-twentieth century ministry classic, The Secret of Soul Winning, returns to print in 2007 with extensive updates from his son David Olford, plus a previously unreleased foreword by the late Adrian Rogers in addition to the original introduction from Billy Graham.
Here, the Olfords relate many of their personal experiences with soul winning, a vital practice among Christians, but one that often seems the most difficult to do. This time-tested practical advice on how to share the good news of Jesus Christ, still as relevant as the first day it was written, is sure to greatly inspire a new generation of disciples.
Chapters include: "The Soul-Winner's Truths," "Task," "Training," "Technique," Target," Travail," Trials," Temptations," and Triumphs."
About the Authors
Stephen F. Olford (1918 - 2004) was an internationally known minister, born in Zambia and serving churches in England and the United States. Often called the preacher's preacher, he influenced countless lives and pioneered the Encounter radio program and Olford Ministries International, both of which continue today.
David Olford is chairman of the board and president of Olford Ministries International and holds the Stephen Olford Chair of Preaching, named in his late father's honor, at Union University in Memphis, Tennessee. His books include The Secret of Soul Winning and Find Us Faithful: Leadership that Leaves a Legacy. He and his wife have two children.
Endorsements
Billy Graham
The Bible says the soul-winner is wise. That being so, Stephen Olford was a man greatly endowed with wisdom. This volume pulsates with holy fire, biblical truth, and spiritual motivation...It comes from a loving heart of a practical soul-winner who has left a remarkable record behind him.
Adrian Rogers (1931-2005)