Find this product on Logos.com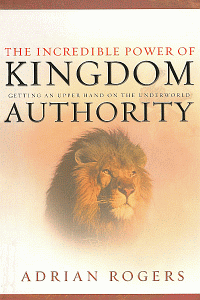 The Incredible Power of Kingdom Authority
Getting an Upper Hand on the Underworld
Product Details
The world is obsessed with power. But the Bible reveals the most awesome power of all: that of kingdom authority—the same power unleashed when God raised Jesus Christ from the grave. The good news is that this same power—the greatest power in the universe—is available to every believer today. But most Christians never experience this power. They live in darkness and defeat of the world and its weaknesses. Satan and his minions work to keep them from the inheritance that is theirs. But Adrian Rogers can show readers how to become a part of the awesome power of God's working in the world to build his kingdom.
About the Author
Adrian Rogers (1931-2005) was one of America's most respected Bible teachers, communicating to millions through his Love Worth Finding radio and television ministry that continues today. He was also senior pastor of the 27,000-member Bellevue Baptist Church near Memphis, Tennessee, and a popular author whose books include Unveiling the End Times in Our Time and The Incredible Power of Kingdom Authority.
Endorsements
Bill Bright
In my opinion, Adrian Rogers is one of the truly great preachers in America today-and a beloved friend. This is God's man with God's message.
Chuck Colson
I know God's hand is upon Adrian Rogers...I praise God for his ministry.
Billy Graham