Find this product on Logos.com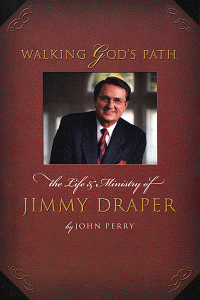 Walking God's Path
The Life and Ministry of James T. Draper Jr.
Product Details
Jimmy Draper began his work as a minister of the Gospel in the 1950s. Through the next five decades, the influence of the denomination he served grew in size and scope as did the influence of his own ministry. Together, Jimmy Draper and the Southern Baptist Convention faced the challenges of the social upheavals of the 1960s and 70s and stood fast for traditional values during the relativistic 1980s and 90s. Today, Jimmy Draper guides one of the most influential forces for morality, values, and the Christian message in the country.
About the Author
John Perry has coauthored books with John MacArthur, Richard Land, Mike Huckabee, among others and written historical books about Charles Colson, the Scopes Monkey Trials, and more. He is a two-time Gold Medallion Award finalist and lives in Nashville, Tennessee.