Find this product on Logos.com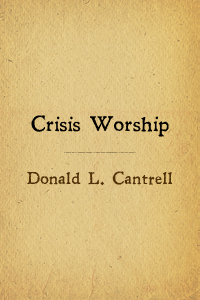 Crisis Worship - Is it Possible?
Product Details
In Crisis Worship - Is it Possible?, Pastor Donald Cantrell asks the question, "Is it possible to worship God during a crisis?" To find the answer, he looks at biblical and real life examples of everyday people going through difficulty to see and learn from how they handle it. Specifically he explores:
Dealing with the Difficulties
Discovering the Definition of Worship
Defeating the Darkness
Diagnosing the Damage
Defending the Denial
Desiring the Dramatic
Dismantling the Discord
Disregarding the Discomfort
Debunking the Doubters
Diminishing the Despair
Demonstrating the Devotion
About the Author
Donald L. Cantrell has been a preacher of the gospel since 1980. His goal in writing books is to be helpful to ministers who may need a simple thought to prompt them in developing a mighty message. His hope is to be practical, preachable, and accessible to the busy and pressured pastor.
In addition to preaching and writing, Donald has been active in personal sermon consulting and research, offering help with individual sermon development, subject research, Bible character studies, and sermon series. He has also helped various pastorates with the leading of revivals.
Donald resides in Georgia with Denise, his wife of 26 years, and Whitney, his daughter.