Find this product on Logos.com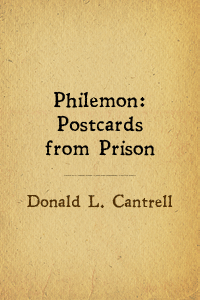 Philemon: Postcards from Prison
Alliterated Expository Sermons on Philemon
Product Details
In
Philemon: Postcards from Prison
, Donald Cantrell explains how the small book Paul wrote while he was in prison in Rome to Philemon has valuable lessons for the church. Paul's letter, written to a runaway slave's owner, can be an example of how we should reconcile with the Lord. Cantrell breaks Philemon into seven parts including:
A Prisoner Speaks
A Praise Stated
A Person Saved
A Plan Submitted
A Payment Satisfied
A Prayer Spoken
A Partnership Shown
About the Author:
Donald L. Cantrell has been a preacher of the gospel since 1980. His goal in writing books is to be helpful to ministers who may need a simple thought to prompt them in developing a mighty message. His hope is to be practical, preachable, and accessible to the busy and pressured pastor.
Currently he is the pastor at Antioch Baptist Church in Dalton, Georgia. In addition to preaching and writing, Donald has been active in personal sermon consulting and research, offering help with individual sermon development, subject research, Bible character studies, and sermon series. He has also helped various pastorates with the leading of revivals.
Donald resides in Chatsworth, Georgia with Denise, his wife of 29 years, and Whitney, his daughter.