Find this product on Logos.com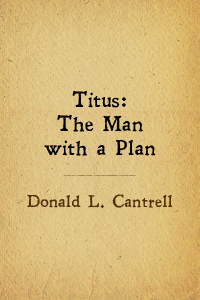 Titus: The Man with a Plan
Expository Alliterated Sermons in Titus
Product Details
By looking at the book of Titus and inspecting the reasons Paul left Titus in Crete, Titus: The Man with a Plan explores the Scriptural Mandates for selecting ministers.
When writing this letter, Paul recognized it was time for Titus to stand on his own and do what he was called to by God. While Titus most likely looked up to his close friend Paul, in this letter he wanted to show Titus that he possessed the same common faith, and had the same access to the power and potential of God as he did. According to Cantrell, using this example can help us to set things in order and to ordain ministers.
About the Author
Donald L. Cantrell has been a preacher of the gospel since 1980. His goal in writing books is to be helpful to ministers who may need a simple thought to prompt them in developing a mighty message. His hope is to be practical, preachable, and accessible to the busy and pressured pastor.
Currently he is the pastor at Antioch Baptist Church in Dalton, Georgia. In addition to preaching and writing, Donald has been active in personal sermon consulting and research, offering help with individual sermon development, subject research, Bible character studies, and sermon series. He has also helped various pastorates with the leading of revivals.
Donald resides in Chatsworth, Georgia with Denise, his wife of 29 years, and Whitney, his daughter.