Find this product on Logos.com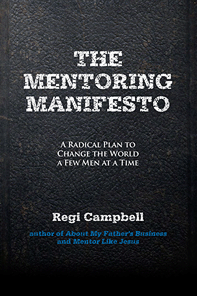 The Mentoring Manifesto
A Radical Plan to Change the World a Few Men at a Time
Product Details
Men feel a calling to give back. To build into other men. To pay it forward. The Mentoring Manifesto will inspire you to become a mentor or a more effective mentor. Will you step up? Will you accept the call? If you don't read anything else in this book, read this: Helping younger men find the peace, purpose and fulfillment of living God-centric lives will give you unparalleled peace, purpose and fulfillment in your life. This 28 page short from best-selling author Regi Campbell will help you change the world, a few men at a time. For more information on effective mentoring, check out Regi Campbell's wonderful full length book Mentor Like Jesus from B&H Publishing Group.
About the Author
James R. (Regi) Campbell is an experienced investor and entrepreneur who has intentionally sought to make a difference for God's kingdom in the marketplace since becoming a Christian in 1983. As president and CEO of Async Corporation, he was recognized as Georgia's high technology Entrepreneur of the Year. Regi then founded InterServ Services Corporation in 1993, growing revenues to $50 million in four years. Since 1997, Campbell has helped launch eight more start-up companies through his Seedsower Investments. He also serves as an elder at North Point Community Church and has mentored eight different young executives each year since 2000.
Regi and his wife, Miriam, have two children and three grandchildren.