Find this product on Logos.com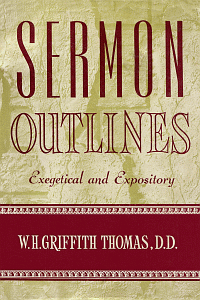 Sermon Outlines
Exegetical and Expository
Product Details
In Sermon Outlines, W.H. Griffith Thomas outlines 35 expository and exegtical sermons on topics including: The Face of God, The Feeding of the Five Thousand, The Parable of the Loving Father, Christian Character, Jacob's Ladder, and many more. Starting with a bible verse and an explanatory paragrah, Thomas outlines some of the main points of the topic and provides simple conclusions that are great resources for building out a sermon.
About the Author
William Henry Griffith Thomas was born in Oswestry, Shropshire, England in 1861. His mother was widowed before he was born, and he spent his early years living with his grandfather. When he was just 16 years old W. H. was asked to teach a Sunday School class at Holy Trinity Church. He received his B.A. from King's College, and in 1895 he became the pastor of St. Aldate's Anglican Church in Oxford and graduated from Oxford University with a Doctor of Divinity.
W. H. Griffith Thomas and his family moved to Toronto, Canada in 1910 where he joined the faculty of Wycliffe College and taught Old Testament literature and exegesis. In 1919 the family moved to Philadelphia, and there Griffith Thomas carried on an extensive conference and writing ministry in North America, Britain and elsewhere. He published 26 Bible study booklets and 24 books. His advice to young preachers was: "Think yourself empty; read yourself full; write yourself clear; pray yourself clean, and then enter the pulpit and let yourself go."
Theologically conservative, Griffith Thomas was both Calvinistic in his soteriology and premillennial in his eschatology. Having befriended Lewis Sperry Chafer in Philadelphia, the two eventually co-founded the Evangelical Theological College, now Dallas Theological Seminary in 1924, the year Thomas died.