Find this product on Logos.com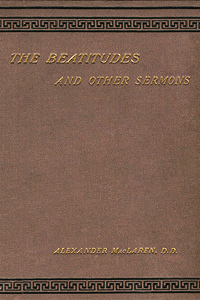 The Beatitudes and Other Sermons
Product Details
This volume is a collection of 30 sermons by Alexander Maclaren. A few sample chapters include:
The First Beatitude
The Second Beatitude
A Common Mistake and Lame Excuse
Slaves and Free
Two Forms of One Saving
The Healing Power of the Name
Love makes Sun
About the Author
Alexander Maclaren, D.D. (1826-1910) felt called to preach from a young age and delivered his first sermon when he was seventeen years old. Maclaren attended the Baptist College in Stepney where he was greatly influenced by the Principal Benjamin Davies. Through Maclaren's time at Stepney College and his time with Davies, Maclaren became a committed student of the original Bible languages and would often enrich his listeners (and readers) through his keen understanding of the original tongue. Maclaren's first pastorate was a small, dying church in Southhampton. It was of his time in Southhampton that Maclaren would later say, "I thank God for the early days of struggle and obscurity." Indeed, Maclaren was intent on excelling at preaching and pastoring his small flock; he would often refuse invitations to speak at other churches and conferences. Despite his initial obscurity, in 1858 Maclaren moved to Manchester where, after eleven years, the church had need to build a 1,500-seat building, and Maclaren's homiletical abilities became famous throughout the English-speaking world. In 1905, after 45 years of ministry, Maclaren resigned as pastor. The fruit of Maclaren's commitment to diligent Bible study has been passed on to later generations through his many expository writings. In them, the reader will find the writings a learned and dedicated man who was eager to clearly communicate the gospel of Christ to his readers. Highly educated, yet known for his humility, Maclaren's works will inspire you to continue in the endurance of the Scriptures for the glory of Christ.