Find this product on Logos.com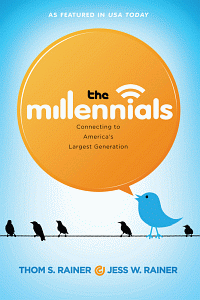 The Millennials
Connecting to America's Largest Generation
Product Details
At more than 78 million strong, the Millennials—those born between 1980 and 2000—have surpassed the Boomers as the larger and more influential generation in America. Now, as its members begin to reach adulthood, where the traits of a generation really take shape, best-selling research author Thom Rainer (Simple Church) and his son Jess (a Millennial born in 1985) present the first major investigative work on Millennials from a Christian worldview perspective.
Sure to interest even the secularists who study this group, The Millennials is based on 1200 interviews with its namesakes that aim to better understand them personally, professionally, and spiritually. Chapters report intriguing how-and-why findings on family matters (they are closer-knit than previous generations), their desire for diversity (consider the wave of mixed race and ethnic adoptions), Millennials and the new workplace, their attitude toward money, the media, the environment, and perhaps most tellingly, religion. The authors close with a thoughtful response to how the church can engage and minister to what is now in fact the largest generation in America's history.
About the Authors
Thom S. Rainer is the president and CEO of Lifeway Christian Resources, one of the largest Christian resource companies in the world. He has consulted with more than five hundred churches, served as pastor of four churches and interim pastor in seven churches, and spoken in hundreds of venues worldwide. Among his publications are hundreds of articles and nineteen books including the national bestseller Simple Church as well as Essential Church?, Raising Dad, and The Bridger Generation. Rainer and his wife, Nellie Jo, have three grown sons and live in Nashville, Tennessee.
Jess Rainer is the Administration and Outreach Pastor of Grace Church in Hendersonville, TN. He is the co-author of The Millennials: Connecting to America's Largest Generation. He is currently pursuing a Master of Arts from Southeastern Seminary. Jess and his wife, Rachel, have two sons.