Find this product on Logos.com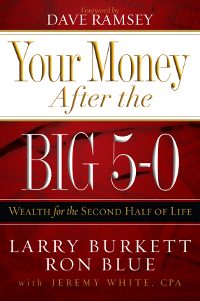 Your Money after the Big 5-0
Wealth for the Second Half of Life
Product Details
What if you run out of money before you run out of life?
Your Money After the Big 5-0 combines the strengths of the two most trusted names in Christian finance to offer a definitive book on how to build a solid financial future as retirement approaches. No matter how much you have or don't have in the bank right now, by following Larry Burkett and Ron Blue's wise counsel, you'll be better equipped to build a portfolio that provides for your family, honors God, and even puts you in a position to bless future generations.
Easy-to-understand topics addressed here include The Uncertain Economy, Tax-wise Investing, Diversification Strategies, Husband/Wife Decision-Making, Training Children, College Funding, Giving, Inheritance, and many more issues relevant to building wealth.
About the Authors
Larry Burkett (1939-2003) was founder and president of Christian Financial Concepts and chairman of the board at Crown Financial Ministries, a company that thrives today.
Ron Blue is an expert on personal finance from a biblical perspective and author of the best-selling book Master Your Money. He is the founder and president of Christian Financial Professionals Network.
Endorsements
Dave Ramsey, Best-Selling Author and Radio Host