Find this product on Logos.com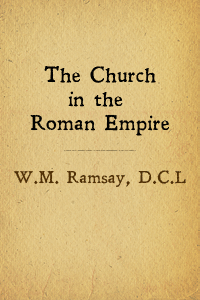 The Church in the Roman Empire
Before A.D. 170
Highlights
Includes pictures and maps.
Product Details
The Church in the Roman Empire is based on William Ramsay's 1892 lectures at Mansfield College in Oxford. Ramsay, an archaeologist and scholar, followed the apostle Paul's travels described in the book of Acts, discovering along the way that his archaeological findings supported Act's account. Taking us along on the journey, this volume examines the early history of the church.
About the Author
Sir William Mitchell Ramsay was born in Glasgow, Scotland in 1851, the youngest son of a third-generation lawyer. His father died when he was six years old but with the help of his older brother and maternal uncle they made it possible for him to have a superior education. He studied at the University of Aberdeen, where he achieved high distinction and later became Professor of Humanity. He won a scholarship to St. John's College, Oxford, where he obtained a first class in classical moderations (1874) and in literae humaniores (1876). He also studied Sanskrit at Göttingen.
In 1880 Ramsay received an Oxford studentship for travel and research in Greece. At Smyrna, he met Sir C. W. Wilson, then British consul-general in Anatolia, who advised him on inland areas suitable for exploration. Ramsay and Wilson made two long journeys during 1881-1882. He traveled widely in Asia Minor and rapidly became the recognized authority on all matters relating to the districts associated with St Paul's missionary journeys and on Christianity in the early Roman Empire. Greece and Turkey remained the focus of Ramsay's research for the remainder of his academic career. He was known for his expertise in the historic geography and topography of Asia Minor and of its political, social, cultural, and religious history.
From 1880 onwards he received the honorary degrees of D.C.L. Oxford, LL.D. St Andrews and Glasgow, and D.D. Edinburgh. He was Fellow of Exeter College, Oxford, in 1882. From 1885 to 1886 Ramsay was the first Professor of Classical Archaeology at Oxford University and pioneered the study of antiquity in what is today western Turkey. In 1886 Ramsay was appointed Regius Professor of Humanity at the University of Aberdeen. In 1906, Ramsay was knighted for his scholarly achievements on the 400th anniversary of the founding of the University of Aberdeen. He was elected a member of learned societies in Europe and America and was awarded medals by the Royal Geographical Society and the University of Pennsylvania. He remained affiliated with Aberdeen until his retirement in 1911. Ramsey passed away in Glasgow in the spring of 1939.
Some of Ramsey's most well known works are: St. Paul the Traveler and the Roman Citizen, Letters to the Seven Churches of Asia, The Church in the Roman Empire, Pauline and other Studies in Early Christian History, Historical Commentary on Galatians and many others.