Find this product on Logos.com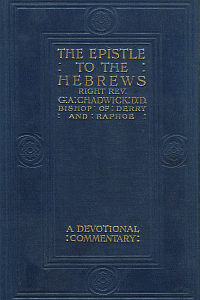 The Epistle to the Hebrews
A Devotional Commentary
Product Details
In the devotional commentary of
The Epistle to the Hebrews
, Chadwick methodically studies each chapter of the unique book of Hebrews, including his own paraphrase of what each verse is implying. The volume is a detailed examination of critical questions, the Epistle's main lines of thought in the book, the tendency the unknown author had towards argument, and the connection of his logic and exposition.
Produced by the Religious Tract Society in 1907, this volume aids readers to apply the words of the Holy Scripture to the needs of their own personal character and life.
About the Author
Right Rev. G.A. Chadwick, D.D. was a Bishop of Derby and Raphoe.