Find this product on Logos.com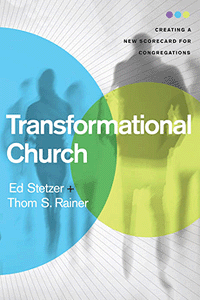 Transformational Church
Creating a New Scorecard for Congregations
Product Details
How are we doing?
The church, that is. And how are we doing it? Congregations have long measured success by "bodies, budget, and buildings"--a certain record of attendance, the offering plate, and square footage. But the scorecard can't stop there. When it does, the deeper emphasis on accountability, discipleship, and spiritual maturity is lost. Ignoring those details, we see fewer lives transformed, Christian influence wane, and churches thin out--a situation that is all too familiar across North America today.
It is time to take heart and rework the scorecard.
According to Ed Stetzer and Thom S. Rainer, the authors of Transformational Church, "Too often we've highlighted the negative realities of the declining American church but missed the opportunity to magnify the God of hope and transformation."
Based on the most comprehensive study of its kind, including a survey of more than 7,000 churches and hundreds of on-site interviews with pastors, Transformational Church takes us to the thriving congregations where truly changing lives is the norm.
Stetzer and Rainer clearly confirm the importance of disciple making for all through active biblical engagement and prayerful dependence on God alongside of ever-increasing, intentional participation in mission and ministry activities. As the church engages these issues, the world will see the change:
More people following Christ
More believers growing in their faith
More churches making an impact on their communities
The transformation starts now.
About the Authors
Ed Stetzer has planted churches in New York, Pennsylvania, and Georgia and transitioned declining churches in Indiana and Georgia. He has trained pastors and church planters on five continents, holds two masters degrees and two doctorates, and has written dozens of articles and books. Ed is a columnist for Outreach Magazine and Catalyst Monthly, serves on the advisory council of Sermon Central and Christianity Today's Building Church Leaders, and is frequently cited or interviewed in news outlets such as USAToday and CNN.
Ed is Visiting Professor of Research and Missiology at Trinity Evangelical Divinity School, Visiting Research Professor at Southeastern Baptist Theological Seminary, and has taught at fifteen other colleges and seminaries. He also serves on the Church Services Team at the International Mission Board.
Ed is currently interim teaching pastor of First Baptist Church of Hendersonville, TN. Ed's primary role is President of Lifeway Research and Lifeway's Missiologist in Residence.
Thom S. Rainer is the president and CEO of Lifeway Christian Resources, one of the largest Christian resource companies in the world. He has consulted with more than five hundred churches, served as pastor of four churches and interim pastor in seven churches, and spoken in hundreds of venues worldwide. Among his publications are hundreds of articles and nineteen books including the national bestseller Simple Church as well as Essential Church?, Raising Dad, and The Bridger Generation. Rainer and his wife, Nellie Jo, have three grown sons and live in Nashville, Tennessee.