Find this product on Logos.com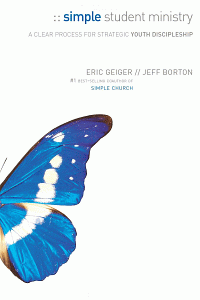 Simple Student Ministry
A Clear Process for Strategic Youth Discipleship
Product Details
Simple Student Ministry fine tunes the proven methods of #1 best seller Simple Church for the unique field of youth discipleship.Coauthor Eric Geiger, who contributed to the latter, takes a step forward here, neatly unpacking the key ideas of Clarity, Movement, Alignment, and Focus that will transform any over-stimulated youth program into a simpler, more results-oriented spiritual development process. Fun is still allowed, by all means, but the ultimate emphasis on maturing faith is simply essential.
The anecdotal comparisons are current and on-target (Starbucks' well-publicized decision to retrain baristas in coffee making introduces the idea that youth leaders might also be wise to revisit the gospel essence of their ministry). And case study data gleaned from small to mega churches and parachurch ministries will give every youth leader a relatable reference point from which to begin the successful metamorphosis to Simple.
About the Author
Eric Geiger is executive pastor of Christ Fellowship, a large and growing multicultural church compromised of more than seventy nationalities in Miami, Florida. He is also the author of Identity: Who You Are in Christ. Geiger and his wife have one daughter.
Jeff Borton is the pastor of students at Christ Fellowship, a growing and culturally diverse, multisite church in Miami, Florida. Borton has extensive experience in missions and believes teenagers can impact the world. He and his wife, Jen, are foster parents and like spending time on the ocean.